15/10/2012
BlueMind wins the 2012's OWF Innovation Awards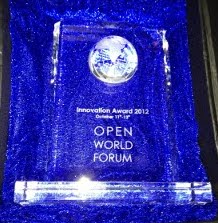 Blue Mind won the prestigious « Open Innovation Awards » at the  Open World Forum 2012, with DocDoku and Hippo.
Blue Mind : most innovative Open Source project of the year !
The OWF Demo Cup has been recognized as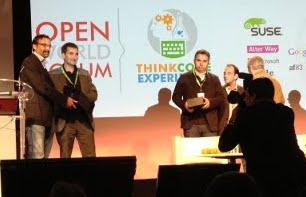 an important showcase and deal-making forum in Europe and worldwide. It is the launchpad for innovative Open Source technologies, products and services. These Open Innovation Awards reward a unique ability to deliver a great product and position it in the market, to show off its most compelling features, to differentiate it from other products
Some points that put Blue Mind ahead :
Light, lean, comprehensive and blazing fast UI.
Technology innovation that allows off-line mode directly in a standard web browser and so reduces the need of local programs.
Openness and extensibity Blue Mind provides a SDK to allow easy usage of its full featured web services API, server plugins, and its Message oriented middleware.
Pierre Baudracco, BlueMind's CEO said : "Winning t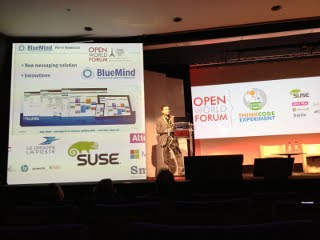 his OWF innovation awards 2012 price at the first Open Source related event in Europe is a great reward for the whole Blue Mind team from the Open Source ecosystem. In this serious and impressive event, the choice by the heterogeneous jury with investors,
entrepreneurs, managers and experts validates all our effort and our result to bring Blue Mind, a new, modern and truly innovative collaborative messaging solution to the market."