Access and Ergonomics
Web User Interfaces
Move to the web for easier emailing!
100% of BlueMind features are available in web mode
Responsive, powerful HTML5/Javascript-based interfaces
Offline mode
Use BlueMind's UIs anytime, anywhere!
You can enjoy BlueMind's functionalities in your web browser, even when you're not connected to the internet.
HTML5-based applications and data are stored in the browser cache
Changes are stored locally
Synchronizes automatically as soon as you're online again
Mobility
Enjoy all of BlueMind on your smartphone!
Configure your smartphone in just 3 minutes and get access to all of BlueMind's features!
Compatible with all smartphones
iPhone
Android
Windows Phone
Blackberry
Native smartphone applications
Mail, Contacts, Calendar applications
Push synchronization (energy saving)
Alerts and notifications
Multi-calendar access and synchronization (for BlueMind subscribers)
Thunderbird
Thunderbird like you've never seen it before!
Enjoy BlueMind's capabilities through Thunderbird:
Thunderbird's comprehensive and powerful email client connects to BlueMind over IMAP
Address books, contacts and user directories are synchronized in real time
BlueMind's rich calendar UI is directly and fully integrated with Thunderbird

user and resource calendars, organizational calendars
views
availability searches
full-text search in events
importing/exporting, PDF printing
Outlook
Connect to BlueMind and keep using Outlook!
BlueMind v4.0 is the only solution that supports Outlook natively, without connectors. You can therefore keep this email client (currently the most popular on professional user workstations) while adopting an open-source European solution and preserving your sovereignty.
To understand how BlueMind's native compatibility with Outlook is a revolution, please read our blog post.
Dav / Mac
Use your Mac's native applications!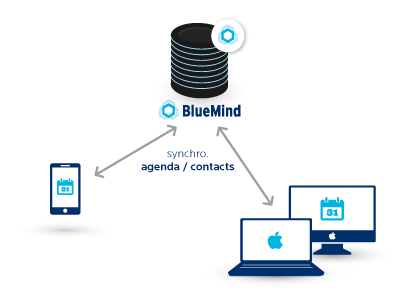 The implementation of the CalDav and CarDav protocols allows you to make full use of native Mac applications: