Features
Find out everything BlueMind has to offer
BlueMind is a complete enterprise email, calendar and collaborative work solution. It seeks to provide you with comprehensive, user-friendly, efficient and powerful tools to help with your everyday activities.
Webmail
Feature-rich, sharply-designed integrated webmail!
2/3-pane views (Outlook-style)
Aliases, groups and shared mailboxes
Delegations, forwarding and filters
Attachment Drag & Drop from the desktop
Full-text search engine, including attachments
And much more…
Our webmail is undergoing a full redesign. To know more about it, please read our article about UX and UI design !
Calendar
An extra-fast, user-friendly calendar!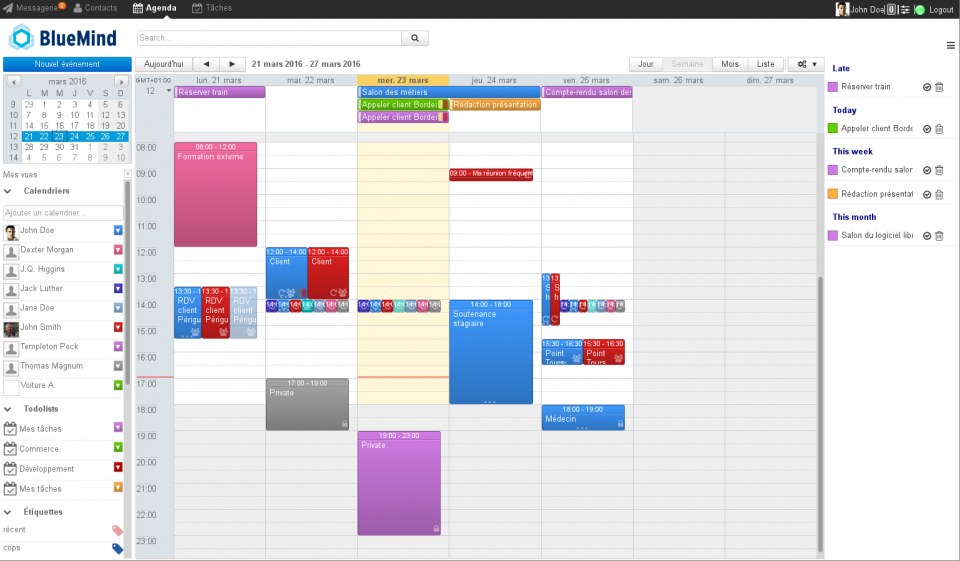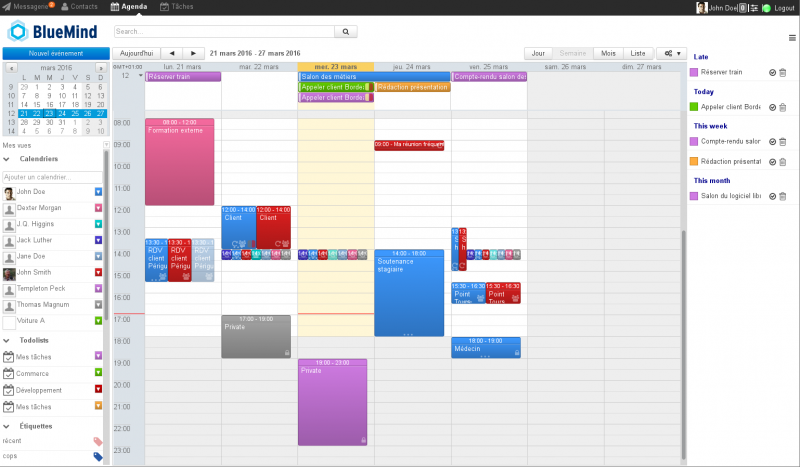 Easy to use
Rich, intuitive ergonomics
Offline web-mode management
Full calendar features

for users, organisations, groups and resources,
availability search (free/busy),
multiples views and savable contexts,
various privilege and delegation levels,
categories/tags shared between contacts et tasks.
Contact Management
Comprehensive contact management
address books: Directory, My Contacts, collected contacts
multiple, shareable personal address books
personal contacts and distribution lists
synchronisation with thick clients and smartphones
contacts and list auto-complete
categories/tags shared between calendars and tasks
Task management
Centralized tasks within BlueMind
create multiple task lists
tasks and deadlines visibles in the calendar
task management-specific UI
task forwarding (coming soon)
categories/tags shared with calendars and contacts
Integrated chat
Use the chat for fast, efficient communications
multi-user conversations
multiple simultaneous conversations
presence indicator
bridge with external XMPP servers possible
emailable conversation reports
Corporate signatures
BlueMind incorporates a message signature application. You can organise and apply the same signature across all employees depending on message contents, current company news or recipients to reinforce your brand image.
Corporate signature features include:

Document sharing area
We work with technology partners to bring you storage spaces and file sharing services.
Attachments made easy
Attach any files. If they exceed size limits, recipients will be able to access them through a link in the email message
Store incoming attachments into dedicated storage spaces directly from BlueMind
Conversely, you can attach files from a file-sharing service
Safely share documents
Through our partners' plugins, BlueMind allows you to specify file storage duration and automatically sets the authorizations required for your recipients
Among the available plugins :
Nextcloud
Numvision
Kimios
Unified communications
Be more efficient thanks to the mail-VoIP connection
BlueMind supports VoIP calls, allowing it to combine email and talk services:
click2call:

dial a number with just one click
find a call's recipient effortlessly!

get shared address books between BlueMind and your phone
see call recipients' availability via the IM presence statuses
your availability for phone calls takes into account your calendar's appointments
voice messages go straight to your inbox
Videoconferencing
We work with a variety of vendors to provide built-in videoconferencing featuring:
Videoconference bridges linked with BlueMind resources
Automatic resource allocation and deallocation
Unified contacts
Single authentification
etc.
Future versions of BlueMind will gradually include these functionalities.
Security
Reinforced security through:
up-to-date system components (postfix, Cyrus, postgreSQL, etc.)
a built-in firewall that restricts access to authorized applications
Add any anti-spam and anti-virus tools you choose. BlueMind offers facilitated integration through:
 AltoSpam
Vaderetro
and the OpenSource SpamAssassin and ClamAV brick frameworks