The fifth edition of the Paris Open Source Summit was held on 10th and 11th December, bringing together the players of the open-source ecosystem.
An international conference summit, business trade show and community gathering rolled into one, OSS Paris is a showcase for the driving role of open-source technologies in current and future digital transformations. This edition's key topic was Artificial Intelligence.
Unfortunately, this year's event was hindered by industrial action. Badly disrupted transport services, overbooked Ubers, taxis and minicabs and massive traffic jams have stopped many delegates and exhibitors from joining us, severely hitting POSS 2019 attendance levels. Still, we tried to make the most of the resulting relative peacefulness by taking the time to talk to those who were able to make it. Let's take a look back onto BlueMind's POSS 2019.
Highlights
.
2019 figures and growth forecast for open source in France
Teknowlogy Group unveiled European open-source market 2019 figures and growth forecasts as part of a study commissioned by CNLL, Syntec Numérique and Systematic. The French market is one of the most dynamic, with nearly 9% growth and 5.2bn euros in 2019.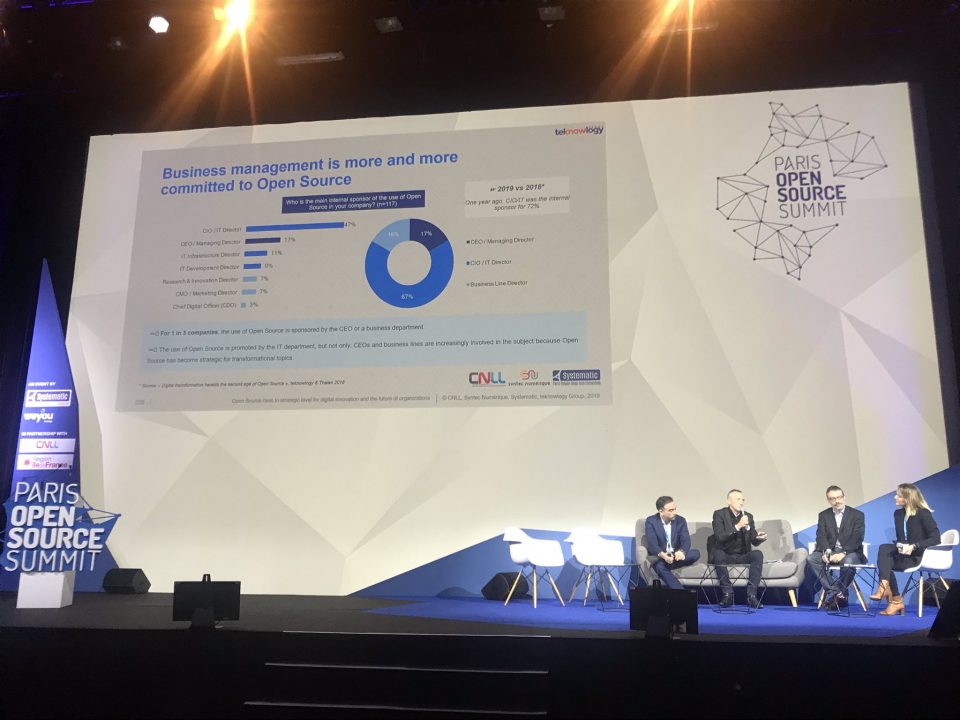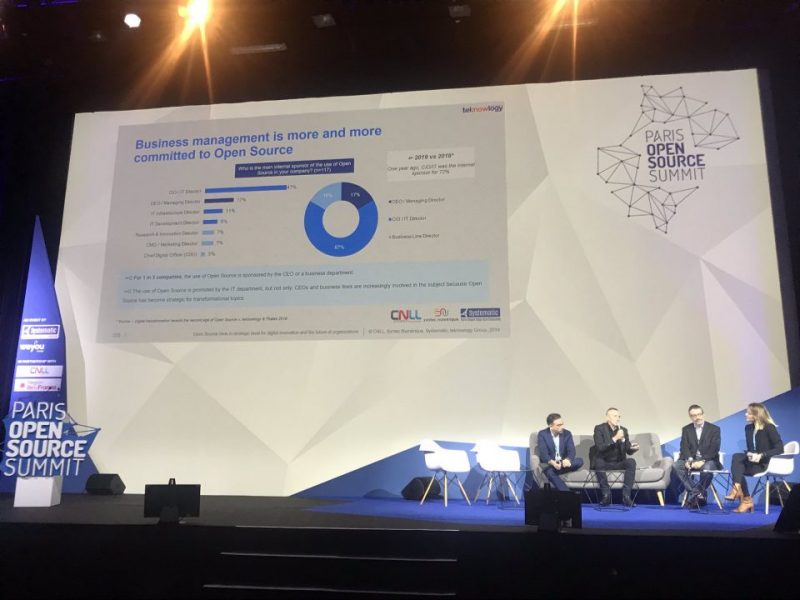 Digital transformation is boosting the open-source market. In almost 80% of companies, the use of open source is set to grow in the next two years. France, closely followed by Germany and the UK, is holding on to its position as Europe's biggest market. It is also where the share of open source in the IT market is highest — at over 10% versus 7% in Germany and 7.4% in the UK.
"The sector is also to be reckoned with in terms of employment: it is estimated to account for 50-60,000 jobs in France and 400 companies – most of which are VSBs, although some are medium-sized" said CNLL co-chairman Stéfane Fermigier to L'Usine Nouvelle. This is without including non-specialist businesses, as "many service providers and large manufacturers also use freeware in many areas".
Close-up on digital sovereignty
One of this edition's most noteworthy presentations was given by Octave Klaba, founder of OVHcloud.
In a fireside chat, Klaba addressed the key issues of digital sovereignty and how it entails everyone's responsibility. Among other things, he discussed how OVH wants to contribute to the development of a trusted European ecosystem.
"Sharing speeds things up and facilitates scaling"
Octave Klaba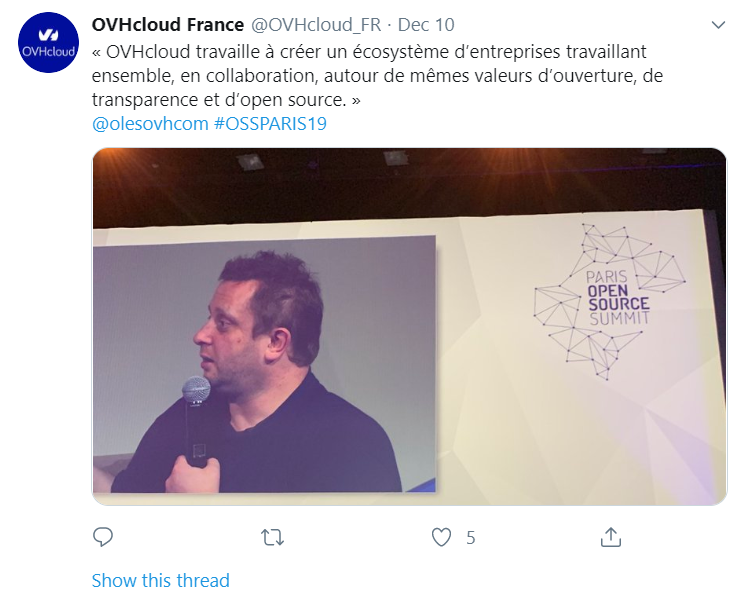 .
Freeware Players Prizes
Organised by CNLL – the National Free Software Committee – the "Freeware Players" prizes acknowledge innovative projects and are awarded to companies/organisations that contribute to the development of freeware and open-source technologies.
This year's winners are:
Congratulations to all!
.
Conferences and conversations
We were delighted to facilitate two conferences:
"BlueMind: Outlook vs Thunderbird vs web vs mobile devices? The showdown!" by Pascal Montagne
"BlueMind v4: the technological ins and outs of 10 years' work to become the only natively Outlook-compatible open-source solution" by Thomas Cataldo
These were not videoed, but you can find a past presentation by Thomas Cataldo on the same topic here.
In parallel, our exhibition stand has been a vibrant gathering point for experts, novices, individuals and professionals to discuss a wide range of mail-related topics.
Thank you all for your enthusiasm, your questions and your fearlessness in tackling the strike!