15/10/2012
BlueMind wins the OWF Innovations Awards !
Blue Mind wins the prestigious « Open Innovation Awards » at the Open World Forum 2012, with DocDoku and Hippo.
Blue Mind : most innovative Open Source project of the year !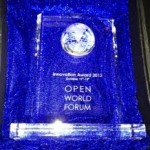 The OWF Demo Cup has been recognized as an important showcase and deal-making forum in Europe and worldwide. It is the launchpad for innovative Open Source technologies, products and services. These Open Innovation Awards reward a unique ability to deliver a great product and position it in the market, to show off its most compelling features, to differentiate it from other products.
Some points that put Blue Mind ahead :
Light, lean, comprehensive and blazing fast UI.
Technology innovation that allows off-line mode directly in a standard web browser and so reduces the need of local programs.
Openness and extensibity Blue Mind provides a SDK to allow easy usage of its full featured web services API, server plugins, and its Message oriented middleware.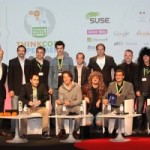 Pierre Baudracco, BlueMind's CEO said : "Winning this OWF innovation awards 2012 price at the first Open Source related event in Europe is a great reward for the whole Blue Mind team from the Open Source ecosystem. In this serious and impressive event, the choice by the heterogeneous jury with investors, entrepreneurs, managers and experts validates all our effort and our result to bring Blue Mind, a new, modern and truly innovative collaborative messaging solution to the market."
26/04/2012
BlueMind co-hosts the Open Source space at the "la Mếlée #16" show in Toulouse
Blue Mind, involved in Solibre, the free software working group of "La mêlée", organized the Open Source digital space during the show "La Mêlée numérique 2012" in Toulouse Diagora Congress Centre on April the 25th and 26th 2012.

The Open Source environment has grown up and offers increasingly sophisticated solutions. Open Source general actors can no longer answer the expert way and gradually leave their places to new Open Source actors specialized in a job or a domain. The Open Source space, focused on professional solutions, and the plenary conference about Open Source solutions, encountered a great success and allowed to discover industrialized solutions for:
VoIP with AVENCALL
Supervision with MERETHIS
ERP with DNA
Collaborative messaging with Blue Mind
Blue Mind presented its Open Source messaging solution which provides a functional and technological renewal (offline Web mode in the browser, full Ajax, web services, plug-in extensibility, management of ten thousands of users, …).
See online : "La Mêlée" website
07/02/2012
BlueMind: new premises in Labège with its partner E-DEAL!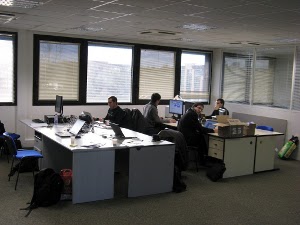 BlueMind moves and settles with its technology partner E-DEAL, in the heart of the digital village, at the Hotel Telecom Labège:
Telecom Hotel, 40 rue du village enterprises, 31670 Labège, France
For BlueMind, the stakes are support their growth, respond effectively to the many customers who trust us

and anticipate the increased load due to the high acceptance of the solution BlueMind by prospects and customers.
E-DEAL, publisher of the eponymous CRM, a company located in Montrouge south of Paris, locates all of its R & D Labège after hiring six new local R & D engineers.
See online : E-DEAL