18/10/2018
BlueMind at the Paris Open Source Summit 2018
The Paris Open Source Summit is the first event in Europe on open source, free software and open digital. International summit of conferences, business show and community gathering, OSS Paris sheds light on the role played by open source in the current and coming digital revolutions and on the Free ecosystem's French players.
The 4th edition of Paris Open Source Summit will be held next 5 & 6 December at the Paris Docks. This 2018 edition will highlight the importance of Open Source in the digital revolution and its growing impact on the wide-scale transformation of many professions/sectors.
POSS 2018 will bring together all the stakeholders from the European and French language ecosystem offering the chance to meet the movers and shakers who create the tools and technologies as well as the decision-makers and consumers who are looking for solutions or who are interested in an Open Source strategy.
Pierre Baudracco, BlueMind's President is this year again the POSS' Programm Manager. "This Presidency of the program offers the opportunity to highlight the key role of Open Source and its models in the digital revolution that is transforming our society as well as the challenges that lie ahead of us."
BlueMind will share a booth with its partner Xivo and lead a conference called : "Finally an open source messaging platform that supports 100% Outlook" (in French).
09/11/2016
BlueMind 3.5 is available!
Version 3.5.0 is designed for fresh installs. The update tool for moving from version 3.0 to 3.5.0  will be available later in a minor release. Changes to 3.5 are significant which is why we want to keep a close eye on our existing clients' updates.
Following two years' work, a brand new version of BlueMind is available.
It brings:
new features
a complete re-write with an improved data model, APIs, extensibility, performance and reliability.
The Web UI
A redesigned, more modern and stylish navigation bar makes moving around BlueMind more straightforward and improves access to applications and functionalities.

E-mail
Large files and detached attachments
Version 3.5 introduces the possibility to detach file attachments from messages and show them to recipients as a downloadable link instead. This takes weight off messages and messaging servers.
This feature is transparent to users as BlueMind decides whether to attach the file physically or store it in the file repository and automatically add a link in the email message.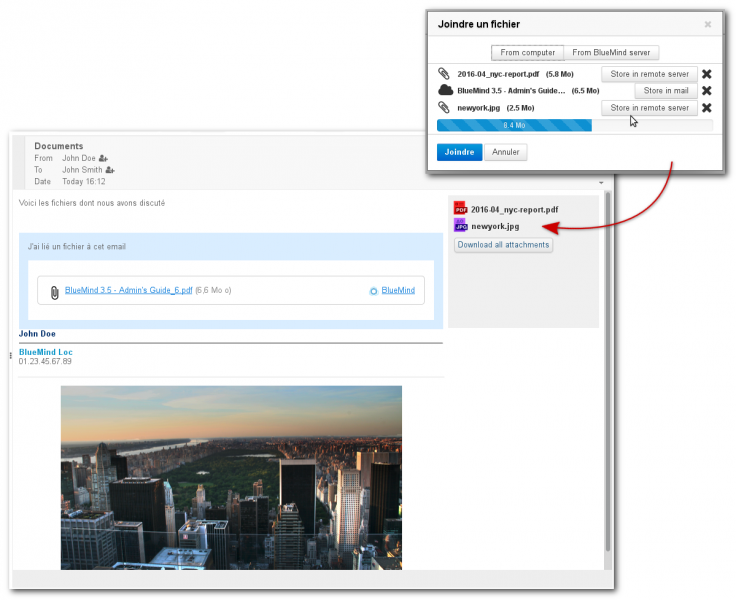 Auto-forward to several recipients
BlueMind now allows you to forward a mailbox's messages to several recipients automatically.
Calendar
Users can now create as many personal calendars as they like and fine-tune how they share events.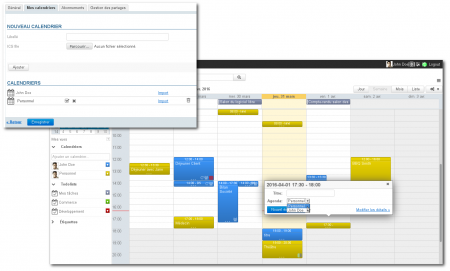 Additionally, they can choose the calendar they want to use to show their availability.

External calendar integration
BlueMind 3.5 lets you display external calendars (Google, Doodle, etc.) which are synchronized through their ICS url (iCalendar format, .ics extension).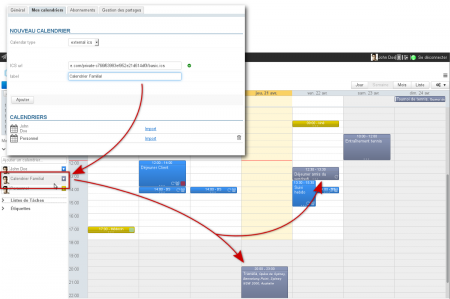 The BlueMind calendar can now also be shared externally through a public address or a private address that lets you make private events visible.

You can now set a meeting participation status specifically for a each occurrence of a recurring event. A participant can therefore confirm that they will be attending a series of meetings but specify that they will not attend a particular occurrence.
Each participant now has their own view of a meeting, which they can customize (title, times, description, location, etc.) without it being visible to other participants.
The event organizer centralizes participation information and their version is a reflection of all participation statuses.
You can now view an event's creation and modification history. History is also available for contacts and tasks.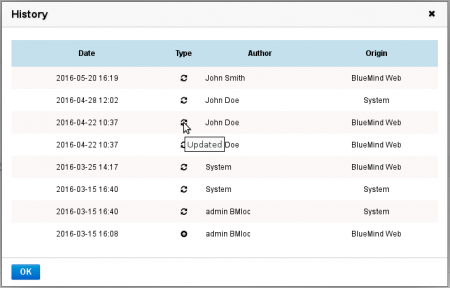 To-do lists
BlueMind 3.5 now offers task management  in a dedicated UI which is synchronized with the calendar.
You can organize your tasks in lists and use tags which are shared with other BlueMind applications (contacts and calendar).
You can share your to-do lists with your colleagues by giving them simple reading or full management rights over them.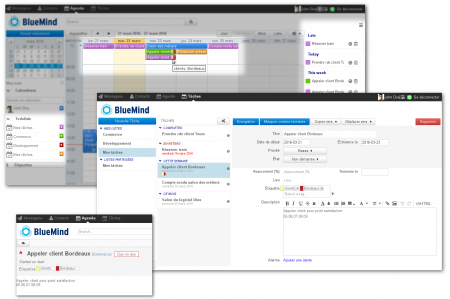 iPhone/iPad/iOS Synchronization
Apple mobile devices can now synchronize several address books.
All address books (excluding collected addresses and the directory) can be synchronized.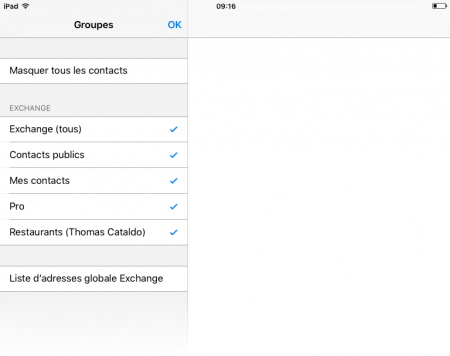 For administrators
Refined rights management
Administration rights management has been refined and administrators can now assign roles to delegate the management of:
users
groups
domain address books
domain calendars
shared mailboxes
resources
the domain (maximum quotas, number of users)
…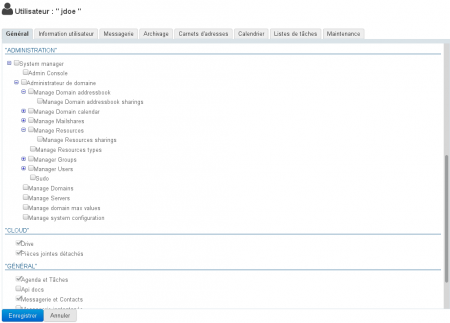 In this version, rights management is done through groups rather than by assigning user or administrator profiles as previously.
Limited number of domain users
Technical aspects
New operating systems supported
RedHat 7 and Ubuntu's Xenial (16.04) support is now effective.
All supported operating systems are listed in BlueMind's Installation pre-requisites.
For Developers
The BlueMind API has been entirely redesigned and is now available either through HTTP REST calls or through clients (currently Java, Javascript, C#, Python and PHP). The bluemind-samples repository is available, giving you access to everything you need to contribute to BlueMind by developing an Add-On. A maven archetype is also provided to facilitate new project definition.
An interactive documentation for our new API REST is embedded in the installer and available to users with "Api docs" privileges.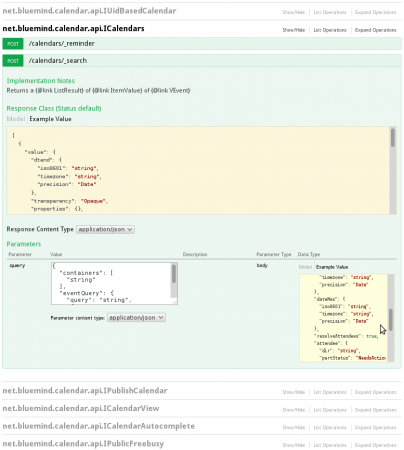 27/04/2016
[EN] BlueMind et Vade Retro lancent un plugin d'intégration de l'antivirus / antispam dans BlueMind
Information dans Global Security Mag
BlueMind et Vade Retro Technology, société spécialisée sur le marché des solutions pour la protection et la classification intelligente de la messagerie, créent un plugin pour doter BlueMind d'un antivirus, antimalware, antiphsihing et d'un antispam puissant.
L'intégration de la technologie Vade Retro dans BlueMind permet d'enrichir la solution d'un antivirus, antimalware, antiphsihing et d'un antispam « made in France », et de proposer ainsi une solution de messagerie collaborative des plus abouties.
Ce plugin permet une installation simple, officielle et supportée de la solution Vade Retro dans la messagerie BlueMind.
27/04/2016
[EN] Bilan du Paris Open Source Summit
Objectifs atteints pour la 1ère édition du Paris Open Source Summit !
Malgré les événements tragiques du 13 novembre à Paris, le POSS a réussi son lancement avec une forte affluence et une mobilisation de l'écosystème du libre et de l'Open Source.
BlueMind, éditeur français de la solution de messagerie collaborative Open Source éponyme était très présent à cette première édition du Paris Open Source Summit avec :
– la tenue d'un stand sur la 1ère solution de Communications Unifiées Open Source, avec son partenaire Avencall
– de nombreuses démonstrations de la solution BlueMind
– l'animation, par Sylvain Garcia, d'une conférence sur les nouveaux enjeux des messageries collaboratives unifiées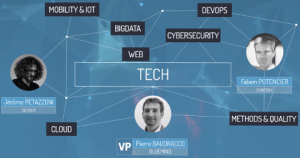 La keynote d'ouverture a rencontré un réel succès donnant la parole à des directeurs de grandes sociétés comme PSA ou encore à des réussites française, tels que Docker ou Symfony.
Pierre Baudracco, président de BlueMind était Vice Président du comité des programmes de l'événement, en charge de la thématique TECH. Il a ainsi dirigé 8 tracks techniques (Cloud, DevOps, Big Data, Cybersécurité, Mobilité et IoT, Web, Methodes & qualité, Solutions) ainsi que la keynote TECH avec un panel inédit d'intervenants (Google, Intel, Docker, Microsoft, IBM, RedHat, le président de l'INRIA,…) et une table ronde de tout premier ordre sur la thématique "Conteneur et Virtualisation".
BlueMind a ainsi présenté en avant première sa nouvelle version 3.5, avec ses nombreuses nouveautés (tâches, agendas externes, optimisation de la gestion des données,..) et sa connectivité avec la solution de ToIP XiVO. Notre stand n'a pas désempli montrant un véritable engouement pour BlueMind.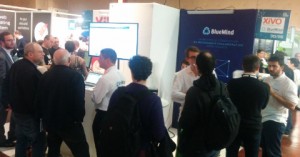 Retrouvez ici l'interview de Pierre Baudracco par Annie Lichtner.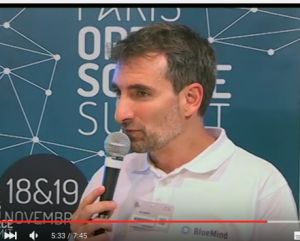 Le chemin est tracé pour la 2ème édition du plus important événement Open Source européen. Rendez-vous en 2016 !